Tornadoes' David Okoromi seeks fans' patience and understanding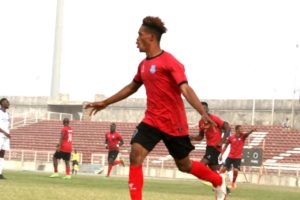 Niger Tornadoes striker and the scorer of the goal against Bayelsa United in mid-week David Okoromi has called for calm and understanding on behalf of his colleagues in the wake of the Ikon Allah Boys winless streak in the league, Nigeriasoccernet.com has gathered.
Speaking via the club's media, shortly after Friday's morning training program, Okoromi said, "The result against Bayelsa United wasn't what we bargained, but sometimes, football happens".
"The team's spirit was high before the mid-week game, it's just that we needed a little bit of luck to get the job done, but unfortunately, luck deserted us".
"Our situation is not irredeemable, because the league is a marathon and points differences are close, we will keep pushing and keep improving until results starts coming our way".
David Okoromi put up and impressive showing in the stalemate against Bayelsa United and is happy to have broken his scoring drought.
"I'm particularly happy to register my first goal of the season but that is not the only goal, the goal is to win together as a team and I believe our hard-work would not go in vein.
"We know the fans are not happy with our recent results, but I call on them to bear with us, soon, results will start coming, because we want to make them (fans) happy and of course our coach.
I equally wish to, on behalf of my team mates, call for their patience, understanding and prayers; we know quite well that, expectations are high, because, this club, is big and we don't deserve to be in the current situation, judging by the level of preparation we had before the season commenced, but like I mentioned earlier, football happens.
The Ikon Allah Boys are poised to avoid anything other than victory in the sunday's game against visiting Dakkada FC of Uyo. The match would draw the curtains on the first stanza of the NPFL23 season.
Source: Niger Tornadoes FC MEDIA