NNL: Warri Wolves Top Group, takes fight for promotion to final day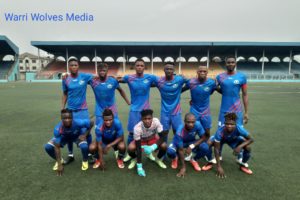 Warri Wolves defeated Crown FC in their round 25 match in the Nigeria National League (NNL) on Saturday.
The Seasiders beat their opponents Ogbomosho by two goals to one to better their chance of promotion to top tier football.
The win took them to the top with a point ahead of previous table toppers, Bayelsa United.
The "Prosperity Boys" played a goaless draw away against Nnewi United to take the points garnered to 42 points.
While Warri Wolves with their win now have 43 points.
Readers Comment
1 6 months ago

555

1 6 months ago

555

1 6 months ago

555

1 6 months ago

555

1 6 months ago

555

1 6 months ago

555

1 6 months ago

555

1 6 months ago

555

1 6 months ago

555

1 6 months ago

555

1 6 months ago

555

1 6 months ago

555

1 6 months ago

555

1 6 months ago

555

1 6 months ago

555

1 6 months ago

555

1 6 months ago

555

1 6 months ago

555

1 6 months ago

555

1 6 months ago

555

1 6 months ago

555

1 6 months ago

555

1 6 months ago

555

1 6 months ago

555

1 6 months ago

555

1 6 months ago

555

1 6 months ago

555

1 6 months ago

555

1 6 months ago

555

1 6 months ago

555

1 6 months ago

555

1 6 months ago

555

1 6 months ago

555

1 6 months ago

555

1 6 months ago

555

1 6 months ago

555

1 6 months ago

555

1 6 months ago

555

1 6 months ago

555

1 6 months ago

555

1 6 months ago

555

1 6 months ago

555

1 6 months ago

555

1 6 months ago

555

1 6 months ago

555

1 6 months ago

555

1 6 months ago

555

1 6 months ago

555

1 6 months ago

555

1 6 months ago

555

1 6 months ago

555

1 6 months ago

555

1 6 months ago

555

1 6 months ago

555

1 6 months ago

555

1 6 months ago

555

1 6 months ago

555

1 6 months ago

555

1 6 months ago

555

1 6 months ago

555

1 6 months ago

555

1 6 months ago

555

1 6 months ago

555

1 6 months ago

555

1 6 months ago

555

1 6 months ago

555

1 6 months ago

555

1 6 months ago

555

1 6 months ago

555

1 6 months ago

555

1 6 months ago

555

1 6 months ago

555

1 6 months ago

555

1 6 months ago

555

1 6 months ago

555

1 6 months ago

555

1 6 months ago

555

1 6 months ago

555

1 6 months ago

555

1 6 months ago

555

1 6 months ago

555

1 6 months ago

555

1 6 months ago

555

1 6 months ago

555

1 6 months ago

555

1 6 months ago

555

1 6 months ago

555

1 6 months ago

555

1 6 months ago

555

1 6 months ago

555

1 6 months ago

555

1 6 months ago

555

1 6 months ago

555

1 6 months ago

555

1 6 months ago

555

1 6 months ago

555

1 6 months ago

555

1 6 months ago

555

1 6 months ago

555

1 6 months ago

555

1 6 months ago

555

1 6 months ago

555

1 6 months ago

555

1 6 months ago

555

1 6 months ago

OPYtrvb4

1 6 months ago

-1 OR 2+391-391-1=0+0+0+1 --

1 6 months ago

-1 OR 2+736-736-1=0+0+0+1

1 6 months ago

-1' OR 2+575-575-1=0+0+0+1 --

1 6 months ago

-1' OR 2+818-818-1=0+0+0+1 or 'OswqSliz'='

1 6 months ago

-1" OR 2+29-29-1=0+0+0+1 --

1 6 months ago

if(now()=sysdate(),sleep(15),0)

1 6 months ago

0'XOR(if(now()=sysdate(),sleep(15),0))XOR'Z

1 6 months ago

0"XOR(if(now()=sysdate(),sleep(15),0))XOR"Z

1 6 months ago

(select(0)from(select(sleep(15)))v)/*'+(select(0)from(select(sleep(15)))v)+'"+(select(0)from(select(sleep(15)))v)+"*/

1 6 months ago

-1; waitfor delay '0:0:15' --

1 6 months ago

-1); waitfor delay '0:0:15' --

1 6 months ago

1 waitfor delay '0:0:15' --

1 6 months ago

NRetWRQm'; waitfor delay '0:0:15' --

1 6 months ago

-5 OR 344=(SELECT 344 FROM PG_SLEEP(15))--

1 6 months ago

-5) OR 86=(SELECT 86 FROM PG_SLEEP(15))--

1 6 months ago

-1)) OR 29=(SELECT 29 FROM PG_SLEEP(15))--

1 6 months ago

HGBIKgei' OR 541=(SELECT 541 FROM PG_SLEEP(15))--

1 6 months ago

unRD6p4P') OR 862=(SELECT 862 FROM PG_SLEEP(15))--

1 6 months ago

1puYkCne')) OR 703=(SELECT 703 FROM PG_SLEEP(15))--

1 6 months ago

555*DBMS_PIPE.RECEIVE_MESSAGE(CHR(99)||CHR(99)||CHR(99),15)

1 6 months ago

555*DBMS_PIPE.RECEIVE_MESSAGE(CHR(99)||CHR(99)||CHR(99),15)

1 6 months ago

555*DBMS_PIPE.RECEIVE_MESSAGE(CHR(99)||CHR(99)||CHR(99),6)

1 6 months ago

555*DBMS_PIPE.RECEIVE_MESSAGE(CHR(99)||CHR(99)||CHR(99),3)

1 6 months ago

555*DBMS_PIPE.RECEIVE_MESSAGE(CHR(99)||CHR(99)||CHR(99),0)

1 6 months ago

1'"

1 6 months ago

555