Friendly: Flying Eagles hold Nasarawa United to stalemate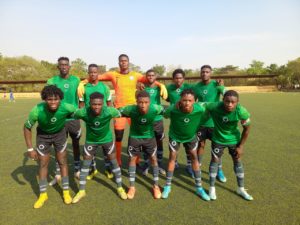 The Nigeria U-20 national team continued their preparations ahead of the U-20 African Cup of Nations holding next in Egypt after playing another Nigeria Professional Football League team on Friday.
The Flying Eagles this time played a one all draw in their toughest warm up game so far against Nasarawa United at the FIFA Goal Project AstroTurf, Abuja.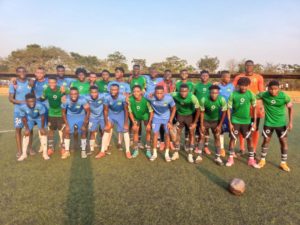 Unlike the previous matches that have served off to keep the Ladan Bosso Lads in shape, the team thralled for the first time.
Nasarawa United's midfielder, Ikenna Offor, drew the first blood from the spot twenty-four minutes into the restart after a stalemate affair in the first phase.
Winger, Oche Josiah, was hacked down inside the box by one of the young Eagles' defender for the centre referee to award the penalty.
As time ticked off, the impeccable unbeatable status of the Nigerian youth team since the start of their friendlies, was at the verge of running out, but Lekan Adam made sure that didn't happen.
Adam struck the ball into the net from close range after Goalkeeper, Ameh Godwin, spilled Yahaya Ibrahim's thunderbolt toward his path four minutes from stoppage time.
After the encounter, the Coaches of the two sides gave their reactions of the match
Nasarawa United Technical Adviser, Bala Nikyu said "Well, the match is good for both teams because we are preparing for the elite domestic league while they are preparing for a major tournament.
"In fact, the match is more important to them because they will represent the country at an international competition.
"For now, whether you win or lose isn't the most important thing, but being able to identify the areas of weaknesses and subsequent corrections.
"In all fairness, our opponents today are a very good side.
"I do hope they will exhibit the same fighting spirit when they start participating at the international competition.
On his part, a member of the U-20 Coaching Crew, Oladuni Oyekale revealed "It's a great game between these two teams."
"The team(Flying Eagles) are undergoing some processes.
"All this while, we were playing against Academy sides. We just started playing against top-league sides, and you should know that Clubs are different.
"Yeah, we were able to overcome Wikki Tourists in our last game before today's encounter.
"We played a 1-1 draw with Nasarawa United which is a good thing for us.
"They are a very big team, and have good and experienced players.
"However, what we really enjoyed in the game was the fighting spirit our boys showed to equalize after conceding from the spot."
Sharif Abdallah, the U20 Media Officer reports that the U-20 team will play another friendly encounter with another NPFL side, Lobi Stars at the FIFA Goal Project AstroTurf, Abuja on Saturday by 7:30am.
Uche Dozie