Friendly: Future Eagles earn another emphatic win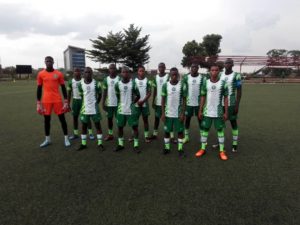 Nigeria's Under 16 male team gave another brilliant display in their warm up matches at the FIFA Goal-Project pitch in Abuja after beating Family Love Football Club on Friday, Nigeriasoccernet.com reports.
The Future Eagles continued their preparation for the Dream Cup tournament in Japan with a 5-1 win over their opponents.
In a game that was disrupted by heavy downpour for a large part, the "baby Eagles" lead 2-0 before the interruption.
However, their opponents pulled one back at resumption of the encounter and almost equalled score, but their efforts ended abortive.
The turn of events necessitated changes by the Coach of the team, Haruna Ilerika which produced impact in the game as the Nigerian team scored three more to end the tie 5-1.
The Future Eagles will play their final warm up match on Saturday (today) before heading for Japan on Sunday for the tournament which starts from the 31st of May to 5th June.
By Uche Dozie