FIFA U-20 WC: "Beat Brazil,Get a plot of Land in Abuja"- Jedo FC Proprietor promise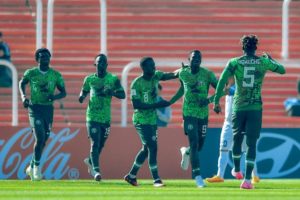 The President of Real Estate Developers Association of Nigeria (REDAM), and proprietor of Jedo FC of Sokoto Alhaji Aliyu Oroji Wamakko, who is a football stakeholder
have urged the Flying Eagles to go all out and win the World Cup and get a plot of land in Abuja.
He promised the players that he will give each of them a land measuring 500 square meters in the FCT that can contain a 4-bedroom flat and a Boys Quarter.
The players were so excited, and that boosted their morale in their game against Italy. No motivation will be bigger than that, and I am sure the players will like to have a land in Abuja,"
Speaking from the team's camp in Argentina, yesterday, Secretary General of the Nigeria Football Federation (NFF), Mohammed Sanusi, said: "I am sure the players will be motivated and won't let Nigeria down in this World Cup.
The Flying Eagles have vowed to cage five times World champions, Brazil in their last group match today at the ongoing FIFA U-20 World Cup.
Meanwhile,coach Ladan Bosso is optimistic his boys will get better as the competition progresses.
Asked what are his plans against Brazil, Bosso said: "Having watched Brazilian play, I think we know how to handle them, but I will consider giving the other players who have yet to feature in our two games an opportunity to showcase themselves.
Today's match will hold at the Estadio Unico Diego Maradona in La Plata. Nigeria needs a draw to top Group D.