Federal Government Temporarily Close Lagos Stadium for repair works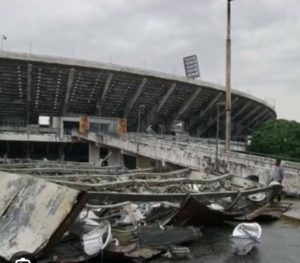 The Federal Government through the ministry of Youths and Sports has commenced the removal of the remaining floodlights inside the National Stadium, Lagos
This comes after one of the four floodlights' pillar caved in from the middle, bringing down the ramshackle floodlights,following a windstorm last month.
The latest move is meant to avert another tragedy at the 51-year-old stadium, with the remaining giant floodlights also dilapidated.
The Sports Minister Sunday Dare While on an inspection of the facility after the floodlights collapsed had announced a temporary closure of the stadium due to the remaining three floodlights had also been affected by "age and weather elements.
"Based on my assessment, advice of experts and in the interest of public safety,
the ministry will announce shortly the temporary closure of the stadium and surrounding facilities for proper assessment and necessary action," Dare stated.